expoarch
The expoarch is a patented invention of the expotrade Group. Most of the arches that mark a finishing area are inflatable but at various events it is not allowed to use them anymore because of safety rules. This is the reason why expotrade decided on creating a completely new arch made out of aluminium – the expoarch. The clever and rotationally secure plug-in system makes it possible to build up/dismantle the arch with 3 people within 30 minutes. One of the biggest advantages is that there is no electricity needed! As the expoarch has enough own weight, a wind down with the included set is only needed when there are high wind speeds. The easily exchangeable and printable fabric covering makes the use of the expoarch very flexible. In comparison to the inflatables the design of the arch from expotrade can be changed without big problems. Just change the fabric covering and you can use the expoarch for a different event.
expoarch – aluminium arch
very special and unique design ALUMINIUM-construction
unmissable Eyecatcher
large, printable and easy changeable advertisement-banners made of fabric
easy to set-up in 30 min. due to a special, patented connecting-system
small package-sizes  (3 roller-carrybags)
NO airblower necessary as with inflatables –> sturdy and stable / no electricity necessary

legs are height-adjustable
the fabric-parts can be equipped with LED-lightings for a perfect shiny effect
tighten-down only during strong winds
expoarch – facts and figures
profile ø:
80 mm
thickness of profile:
3 mm
width:
280 cm
total height:
455 cm
height till banner:
350 cm
weight:
180 kg (Alu-frame)

10 kg (fabric parts)

packing-size:
3 roller-carrybags with each 140 x 60 x 40 cm
carrybag, nails, cords:
fabric colours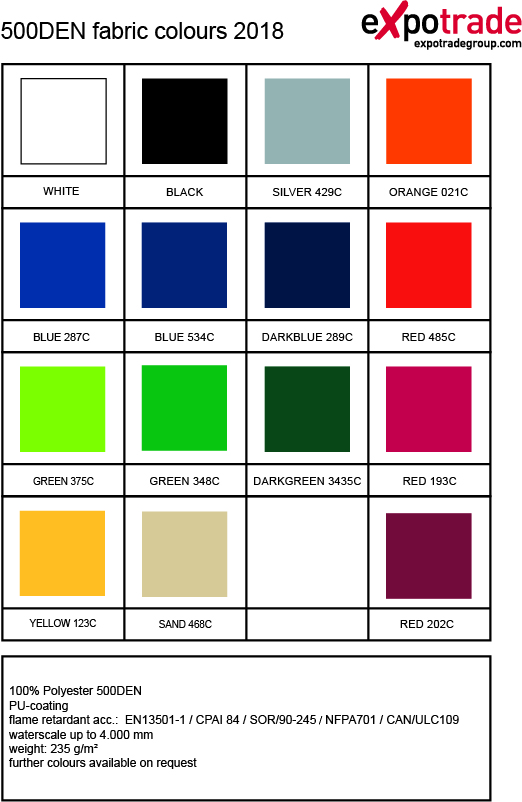 sublimation print
sensational colours- the printable spectrum ranges from single logos up to full-size pictures or gradients!
The sublimation-print procedure achieves intensively bright colours and a high UV protection.
advantages of the sublimation-print:
full-size printing possible for covers / sidewalls and all other fabric parts
brilliant, intensively shiny and bright colours
complex layouts, logos, pictues, gradients – everything is possible
cost-saving production starting from 1 pc already
no films/screens etc. necessary