Expoarch
L'Expoarch est une invention brevetée par le groupe Expotrade. Nombre d'arches marquant la ligne d'arrivée sur une épreuve sont gonflables, mais souvent elles ne sont pas autorisées pour des raisons de sécurité. C'est la raison pour laquelle Expotrade a décidé de créer une arche totalement révolutionnaire faite en aluminium: l'Expoarch. Avec son système d'assemblage clair et sécurisé, il peut être construit ou désassemblé par 3 personnes en 30 mns. Un des plus grands avantages est qu'il ne nécessite pas d'électricité!
Le matériau qui l'habille est  facilement interchangeable et imprimable. Son utilisation devient ainsi très flexible et reste beaucoup plus facile que sur les autres arches du marché. Vous pouvez changer le matériau si nécessaire pour afficher un autre message sur autre événement.
Une arche, plusieurs messages publicitaires possibles!
expoarch – aluminium arch
very special and unique design ALUMINIUM-construction
unmissable Eyecatcher
large, printable and easy changeable advertisement-banners made of fabric
easy to set-up in 30 min. due to a special, patented connecting-system
small package-sizes  (3 roller-carrybags)
NO airblower necessary as with inflatables –> sturdy and stable / no electricity necessary

legs are height-adjustable
the fabric-parts can be equipped with LED-lightings for a perfect shiny effect
tighten-down only during strong winds
expoarch – facts and figures
profile ø:
80 mm
thickness of profile:
3 mm
width:
280 cm
total height:
455 cm
height till banner:
350 cm
weight:
180 kg (Alu-frame)

10 kg (fabric parts)

packing-size:
3 roller-carrybags with each 140 x 60 x 40 cm
carrybag, nails, cords:
fabric colours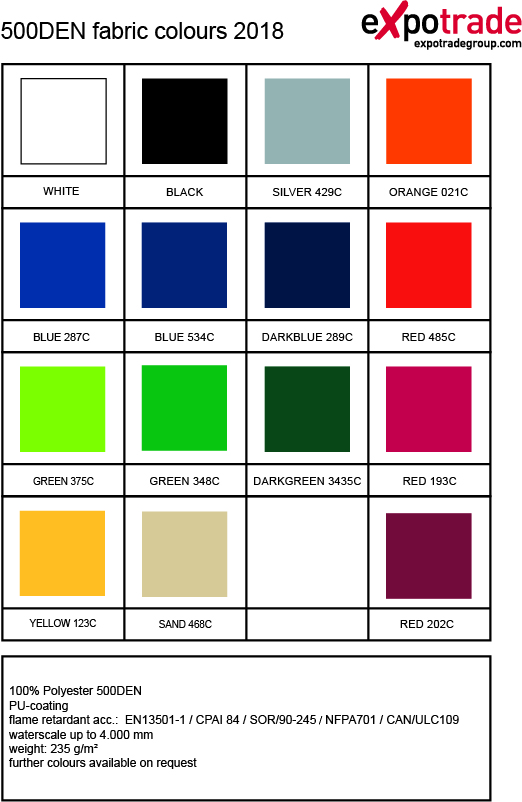 sublimation print
sensational colours- the printable spectrum ranges from single logos up to full-size pictures or gradients!
The sublimation-print procedure achieves intensively bright colours and a high UV protection.
advantages of the sublimation-print:
full-size printing possible for covers / sidewalls and all other fabric parts
brilliant, intensively shiny and bright colours
complex layouts, logos, pictues, gradients – everything is possible
cost-saving production starting from 1 pc already
no films/screens etc. necessary