Expodome 6 m
Sa taille l'a rendu célèbre. Plus haut qu'une tente traditionnelle et rendu unique par sa forme pentagonale, il fera la différence entre votre stand et celui de vos voisins sur les salons.
Jouez la différence et profitez de l'effet attractif de l'Expodome 6 m!
expodome 6 m – facts and figures
profile leg:
40 mm ø anodised Aluminium
thickness leg-profile:
2,5 mm
profile visor:
38 mm ø anodised Aluminium
thickness visor-profile:
1,5 mm
total height:
400 cm
height up to visor:
235 cm
walking-through height:
215 cm
width of entrance:
400 cm
packing-size:
204 x 40 x 33 cm (frame)

120 x 50 x 25 cm (cover)

90 x 40 x 15 cm (floor panel)

85 x 20 x 12 cm (nails)

weight:
54,0 kg (frame)

20,6 kg (cover)

8,0 kg (floor panel)

18,0 kg (nails)

carrybag, nails, cords:
sublimation print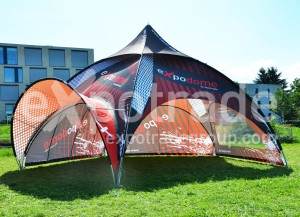 sensational colours- the printable spectrum ranges from single logos up to full-size pictures or gradients!
The sublimation-print procedure achieves intensively bright colours and a high UV protection.
advantages of the sublimation-print:
full-size printing possible for covers / sidewalls and all other fabric parts
brilliant, intensively shiny and bright colours
complex layouts, logos, pictues, gradients – everything is possible
cost-saving production starting from 1 pc already
no films/screens etc. necessary