Expodome 9 m
Il est le "point culminant " de notre gamme Expodome!
9 m de diamètre, 6 m de hauteur, cette structure pentagonale est immanquable sur les salons. Il impose le respect professionnel et améliore l'image de votre marque.
Avec ses visières adaptables, votre Expodome 9 m sera encore plus grand et encore plus visible. Une large gamme d'accessoires est disponible pour ce géant, notamment un éclairage LED qui attirera vos clients potentiels, même en soirée.
expodome 9 m – facts and figures
profile leg:
54 mm ø anodised Aluminium
thickness leg-profile:
3,0 mm
profile visor:
38 mm ø anodised Aluminium
thickness visor-profile:
1,5 mm
total height:
576 cm
height up to visor:
300 cm
walking-through height:
260 cm
width of entrance:
565 cm
packing size:
207 x 45 x 38 cm (frame)

120 x 50 x 25 cm (cover)

90 x 40 x 27 cm (floor panel)

85 x 20 x 12 cm (nails)

weight:
88,4 kg (frame)

28,6 kg (cover)

17,5 kg (floor panel)

18,0 kg (nails)

carrybag, nails, cords:
sublimation print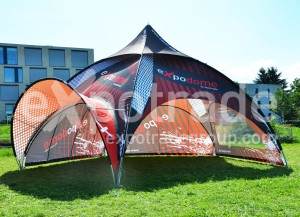 sensational colours- the printable spectrum ranges from single logos up to full-size pictures or gradients!
The sublimation-print procedure achieves intensively bright colours and a high UV protection.
advantages of the sublimation-print:
full-size printing possible for covers / sidewalls and all other fabric parts
brilliant, intensively shiny and bright colours
complex layouts, logos, pictues, gradients – everything is possible
cost-saving production starting from 1 pc already
no films/screens etc. necessary